e-ROUTES

YOUR ELECTRIC CO-PILOT FOR STRESS-FREE JOURNEYS
Planning a trip is exciting and if you drive an Electric Vehicle you deserve to do it worry free.
Don't let your journey be ruined by range anxiety, fretting about how many miles you can drive before the need to plug in: discover e-ROUTES by Free2move Charge, the new mobile app created for you by Citroën to enrich your driving experience. ​
The e-ROUTES app is your electric co-pilot that will guide you to destinations, recommending the best charging stations and providing you with real-time battery level updates. ​
Forget range anxiety and just enjoy your trips even if your vehicle does not have an embedded navigation system: know your estimated end charge upon arrival and stay informed about charging station availability.
With e-ROUTES, you always get the best route indications taking into account live traffic information, speedcam alerts and responding to vocal guidance.​
Start your next electric journey with e-ROUTES app and Citroën navigation.
Please sign in or create an account to subscribe to this service
If you already use the MyCitroën App, you can sign in with the same details.
Sign in
Create an account
E-ROUTES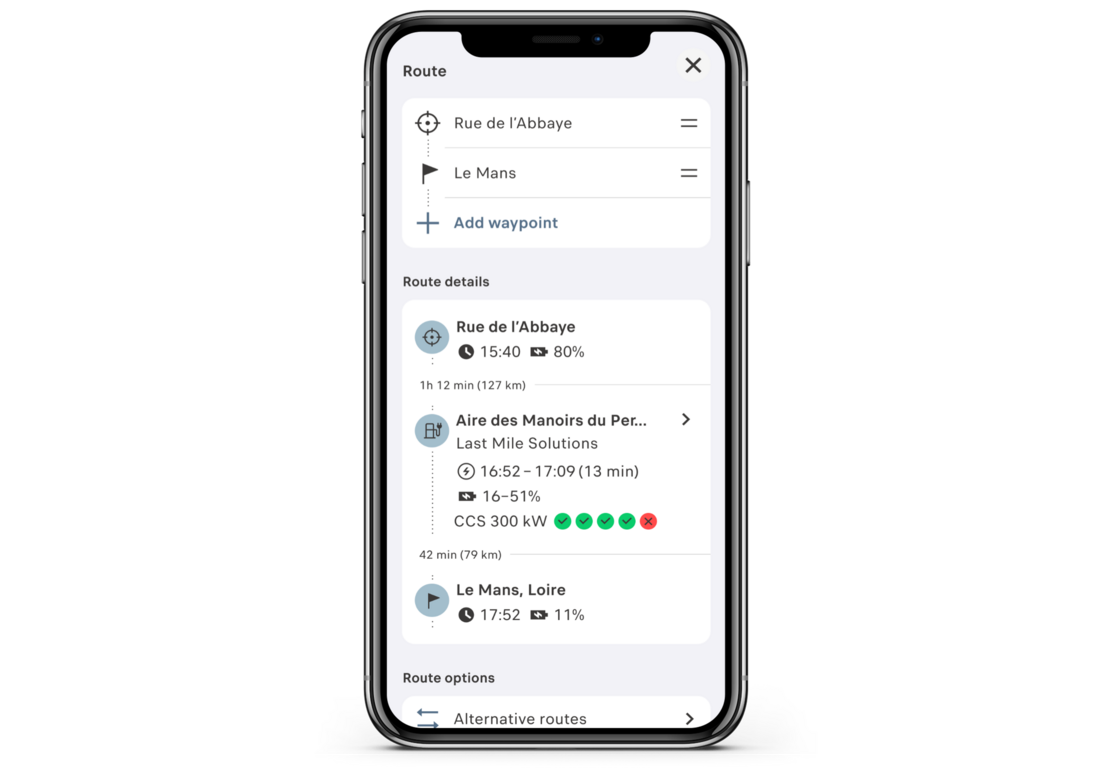 e-ROUTES is designed for stress-free journeys: our new trusted navigation app let you plan your trips i while driving your electric Citroën.
Before you start your next long journey, check the e-ROUTES app to see the estimated end charge upon arrival and locate all charging points along the route, just in a few taps. ​
All your vehicle's parameters are shared with e-ROUTES thanks to Citroën dynamic data updates: that's how e-ROUTES gives you accurate suggestions on where to stop, charge or change route. During your journey, the app provides you the best solution to reach your destination avoiding traffic by getting real time information while taking into account your battery level. And if the traffic conditions change, e-ROUTES recomputes the charge plan to give you the best indications.​
Just make your journeys easier with our new Citroën service.
e-ROUTES by Free2move Charge is the ultimate electric vehicle navigation app for connected Electric Vehicles.

Even if your vehicle is not equipped with embedded navigation, thanks to our new app you can benefit from Citroën's help for all your electric journeys: our app estimates and checks your battery charge levels during the trip and locates the best charging points along the route. ​
e-ROUTES also suggests you the optimal charge time for each stop: when you are planning your trip and while you are approaching a charging stations, you'll see in the app the best suggestions to get the optimal charge level.​
And don't waste time waiting for a charger: e-ROUTES lets you know how many chargers are available at the next stations, so you can choose the best stop to get your charge!​
Just connect your smartphone to the infotainment system thanks to Citroën screen mirroring. See the app indications directly on your vehicle's infotainment screen, follow the suggestions and reach every destination with total peace of mind.
Fully enjoy your electric car with the newest Citroën connected service designed for you! ​
You must possess a MyCitroën account and the app to benefit this services.​
If you do not have a MyCitroën account, it's quick and simple to create one directly here in the website or using the MyCitroën app. ​
You have already the app? Visit the connected services catalogue: select e-ROUTES in the list of services available for you.​
Make sure you've completed the association process with your vehicle to use e-ROUTES app. ​

If your association process is not done yet, you need to complete the 3 steps association journey to connect to your vehicle :​
Indicating your preferred phone number and verifying it
Setting a security code
Connecting the phone to the vehicle via Bluetooth
​The activation of this Citroën service may take a few hours: in the app you will see some suggestions to shorten the process, such as driving a short period; the activation will be quicker if you drive your vehicle in an area with a strong mobile signal. ​
Now that you've subscribed, it's time to download e-ROUTES by Free2move Charge app to bring the best electric navigation onboard, through mirroring.​
Once it's downloaded, insert your MyCitroën credentials and log in.​

It's all done now, you can benefit your Citroën service!​