Connected Navigation Pack
Connected Navigation Pack
THE NEW GENERATION OF CONNECTED NAVIGATION
Enjoy a peaceful drive, as you navigate around congestion and traffic problems, with Citroën Real Time Traffic. Our fully integrated navigation system helps you stay informed, providing real-time information from the leading European GPS provider, TomTom.
Citroën Real Time Traffic can be operated using voice recognition, meaning your eyes need never leave the road.
Please sign in or create an account to subscribe to this service
If you already use the MyCitroën App, you can sign in with the same details.
Sign in
Create an account
Connected Navigation Pack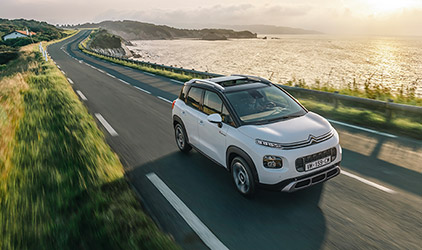 No need to mess around with your smartphone any more - your eyes can stay fixed on the road and your hands on the steering wheel, as you use Citroën Real Time Traffic with voice recognition.
With the on-board Citroën Real Time Traffic, your car finds the best route in real time, based on reliable traffic news. Offering peace of mind, Citroën Real Time Traffic will also offer audible and visual alerts of traffic cameras and accident hotspots along your journey with the SpeedCam feature.
No superfluous information, just the best GPS solution, using the recognised expertise of TomTom and its large community of users.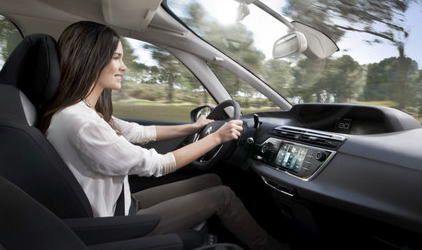 Complete peace of mind
Enjoy the time spent in your car to the full !
With Navigation you can avoid traffic jams, find the address you're looking for or the closest petrol station thanks to real time updates provided by the millions of TomTom users.
A dedicated assistant at your service
When following an itinerary, it is annoying to be pestered when you didn't ask to be. The Citroën Automobiles Navigation uses the collaborative power of TomTom for the best interests of each of its users. Your data will never be used for commercial purposes. No inconvenient adverts, no pop-ups, no requests to talk to a unknown co-user. Just the best GPS solutions in real time brought together on one screen.
Permanently connected
TomTom services
Real time traffic news
Parking prices and availability
Weather forecast on your journey
Voice control supported
Fuel prices at petrol stations
Quick search for addresses and points of interest
Danger zone warnings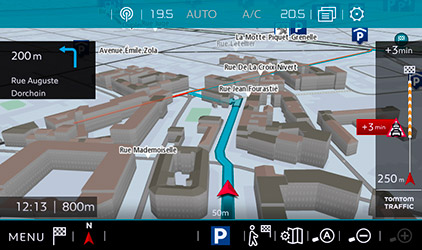 HOW TO ACTIVATE & USE THIS SERVICE
It's already enabled:
When you buy a CITROËN equipped with a Real Time Traffic system, you can benefit from 3 years free subscription to live services, provided by TomTom.
After 3 years, you can extend the services in your online account.
How to use it:
One you have subscribed, simply set the configuration in your vehicle and the services will start working in-car. To activate the service in your car, follow the process below :
To know more about the service, discover the Real Time Traffic Tutorials :
To use the Real Time Traffic services in a vehicle not equipped with the connect SOS & ASSISTANCE SERVICE, it must be paired with the customer's Smartphone, which shares its internet connection. The connection sharing of the customer's smartphone must be activated.